Hand N Hand Home Rehab is a group of like-minded therapists who all function as independent contractors. This means we all have our own schedule and specialties but work under the Hand N Hand umbrella. After your initial intake with our office where we gather basic information, insurance, and problems you are hoping to get help with, we will connect you with therapists that can help you. After the intake process, you will communicate directly with your therapist or billing department.
Nicole Nohner
Occupational Therapist and Owner
Nicole (she/her) is proud to be the founder of Hand N Hand Home Rehab. She earned a Bachelor's in Exercise Science from Gonzaga University (2009) and a Masters in Occupational Therapy from Eastern Washington University (2011). Additionally, Nicole is a Certified Lymphedema Specialist and Certified Fall Prevention Specialist. Nicole's practical expertise spans all age groups and the entire healthcare continuum including skilled nursing facilities, psychiatric care, the school system, inpatient hospital and geriatric home health. The core of Nicole's philosophy and Hand N Hand Home Rehab is highly personalized therapy carefully applied to achieve a client's goals and promote improved quality of life. In particular, Nicole strives to use functional exercise and meaningful activities to keep individuals thriving in their home environment. In her personal time, Nicole tries to keep up in her CrossFit class, enjoys listening to podcasts about anything and everything and is teaching her two young daughters how to ride bikes and sleep through the night. Specialty/Interests: lymphedema, balance, home safety and fall prevention, dementia, wheelchair assessments, rehab after stroke, injury, surgery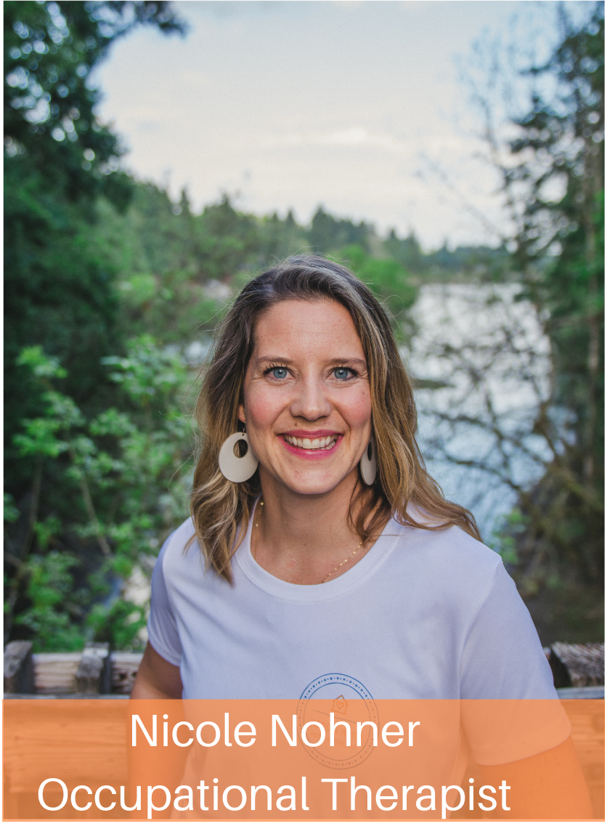 Patty Magid-Volk
Physical Therapist
Patty (she/her) graduated from the University of Wisconsin-Madison with a degree in physical therapy and also completed the 2-year training program at Oregon School of Massage. She is passionate about being a home visiting physical therapist, offering 36 years of experience in mobile outpatient, skilled nursing and home health. Patty is very familiar with the unique opportunity to work with someone in their environment, individualizing her treatment plans to help each client meet their physical therapy goals. Her interests include geriatrics, home safety, fall prevention, balance training, and therapeutic massage. After living in the Midwest, in 2001 Patty made the leap to Portland with her family, as the mountains and ocean of the Pacific Northwest beckoned. Patty's hobbies include photography, backyard gardening and hen tending, hiking, her pet dogs and travel. Patty is fluent in Spanish and Hebrew.
Kristy Fleming
Occupational Therapist
Kristy (she/her) is an occupational therapist with over 17 years experience in the field and 15+ years in health and healthcare prior to becoming an OT. In 1995, Kristy completed her bachelor's degree in Health and Human Performance with a focus in Athletic Training from George Fox University. In 2002, she decided to follow her heart, go back to school to complete her Masters degree in OT from Pacific University in 2005. Her holistic occupational therapy practice is influenced by her experiences in coaching basketball & track, personal fitness training, in-home and residential care services, hospital acute care, supervising teams and mentoring graduate students. She prides herself in her ability to connect with clients to help them realize their strengths, connect to resources and develop/use supportive tools for success. When Kristy is not working you can find her road cycling, volunteering, playing with her pup Ozzy or spending time with her partner, family and friends. Clients have described her as "fun", "caring", "genuine" and "creative".
Abigail Quarterman
Occupational Therapist
Abby Quarterman (she/her) OTD, OTR/L loves the human body and exploring the many ways it can move, adapt, heal and communicate what it needs. She earned her clinical doctorate in occupational therapy from Pacific University in 2016 and her bachelors in recreation and leisure studies from Western Washington University in 2009. Her background as a recreation therapist informs the lens that she approaches her occupational therapy with a strongly held belief that humans have an intrinsic need for connection, movement and purpose. Her interests include working with people with neurological conditions and creative problem solving in order to maximize a person's ability to engage in the daily occupations that are important to them. She completed her 300 hour yoga teacher training and she is eager to incorporate nervous system regulation strategies into her OT practice with her clients. She plans to earn her certified stroke rehab specialist (CSRS) spring of 2022. When not working with clients, Abby enjoys spending time outside with her diva dog Ember who is often rolling in something or eating something she shouldn't be.
Michelle Fogg
Physical Therapist
Michelle (she/her) received her doctorate in physical therapy from University of Nevada, Las Vegas in 2007 has been practicing physical therapy for 15 years. She is passionate about working with older adults and became a Board-Certified Clinical Specialist in Geriatric Physical Therapy in 2019. Michelle is also an active member of the Cultural and Minority Affairs Committee within APTA Oregon, contributes to the Home Health Academy and is the president and founder of Share Your Nest . Her professional interests are vestibular physical therapy and is passionate about treating vertigo, fall prevention and balance. In her free time, she loves to travel with her family, take ninja classes, and practice speaking Spanish. Specialty/Interests: vestibular & vertigo treatment, balance training, spanish speaking
Our Mission
Hand N Hand is founded on the idea that all people deserve to have access to quality care that focuses on who they are as a person, what is important to them, and where they spend their time. This is why we are determined to meet you where life takes place: in your home and community. When we can get a full picture of what you need to be doing, in the places you are, we can better target our therapy to make sure you are living as independently, as safely, and as healthy as can be.
What makes Hand N Hand Different?
| How is Hand N Hand Different? | Benefit to you |
| --- | --- |
| We provide services in the home, not a clinic. | You will have a more convenient solution to therapy as well as a decreased risk for infection as you will not have to travel to an outpatient clinic. |
| We provide longer sessions, 60-90 minutes. | You will receive more personalized care as your therapist will have a better understanding of your unique needs, context, environment, habits, and routines. |
| We provide services in the community and practice doing leisure, hobbies and higher-level daily activities. | You will feel safe and confident while re-entering community activities like shopping, going to the bank, going to church, or getting involved in a senior center. Practicing these high-level activities can provide a way to gain functional exercise and greater life fulfillment. |
| We provide prehabilitation in addition to rehabilitation for patients pursuing elective surgery. | You will heal faster, have less pain, and get out of the hospital sooner. You will feel more prepared and confident about your surgery. |
| We offer aquatic therapy to complement therapy done on the land. | Therapy done in warm water can promote improved mobility, decreased pain, and a low impact, high resistance environment to gain strength. |
| We are an outpatient "mobile" practice, meaning we bill Medicare part B. | You will not have some of the restriction home health imposes like needing to be homebound to participate. |
| We offer occupational and physical therapy. | With both unique professional skill sets, you will receive a more rounded and comprehensive care plan. |